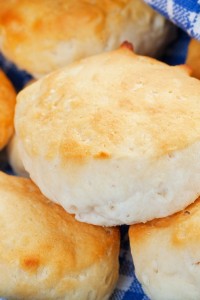 Hello friends! I'm back today with a very basic biscuit recipe, you can throw these together and have them in the oven in less than 10 minutes. You can make basic biscuits by themselves as a side for dinner, or drop them over a casserole, or eat them for breakfast as biscuits and gravy, or simply with butter and jam. You can always find a use for them!
Ingredients
2 cups all-purpose flour
1 tablespoon baking powder
1/2 teaspoon salt
1/2 cup shortening
3/4 cup milk
Preheat oven to 450 degrees F .
In a large mixing bowl sift together flour, baking powder and salt.
Cut in shortening with fork or pastry blender until mixture resembles coarse crumbs.
Pour milk into flour mixture while stirring with a fork.
Mix in milk until dough is soft, moist and pulls away from the side of the bowl.
Turn dough out onto a lightly floured surface and toss with flour until no longer sticky.
Roll dough out into a 1/2 inch thick sheet and cut with a floured biscuit or cookie cutter.
Press together unused dough and repeat rolling and cutting procedure.
Place biscuits on ungreased baking sheets and bake in preheated oven until golden brown, about 10 minutes.
https://foodietale.com/appetizers/basic-biscuits-recipe/