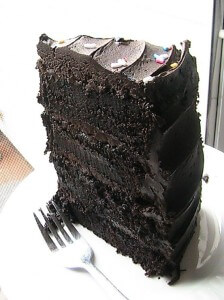 In my search for recipes, I came across something that every chocolate fan should taste, this is one of those must-have recipes. It is very rich, chocolaty and elegant. If you want a cake that's made to impress, give serious consideration to this Hershey's beauty. The flavor of this cake is over the moon good. You will think you are riding the tail of a comet, taking you to the place where chocolate dreams are made and come true. You will not want to come back.
Hershey's Decadent Dark Chocolate Cake
Ingredients
CAKE
2 C sugar
1 3/4 cups all-purpose flour
3/4 C HERSHEY'S SPECIAL DARK Cocoa
1 1/2 t baking powder
1 1/2 t baking soda
1 t salt
2 eggs
1 C milk
1/2 C vegetable oil
2 t vanilla extract
1 C boiling water (I used hot, strong coffee)
ONE-BOWL BUTTERCREAM FROSTING
8 T butter or margarine, softened
3 C powdered sugar
2/3 C HERSHEY'S SPECIAL DARK Cocoa
1/3 C milk
1 t vanilla extract
Heat oven to 350°F. Grease and flour two 9-inch round pans or one 13x9x2-inch baking pan.
Stir together sugar, flour, cocoa, baking powder, baking soda and salt in large bowl. Add eggs, milk, oil and vanilla; beat on medium speed of electric mixer 2 minutes. Stir in boiling water (batter will be thin). Pour batter into prepared pans.
Bake 30 to 35 minutes for round pans, 35 to 40 minutes for rectangular pan or until wooden pick inserted in center comes out clean. Cool 10 minutes; remove from pans to wire racks. Cool completely. (Cake may be left in rectangular pan, if desired.)
ONE-BOWL BUTTERCREAM FROSTING
Beat room temperature soften butter in medium bowl until fluffy. Add powdered sugar and cocoa alternately with milk, beating to spreading consistency (additional milk or less may be needed). Stir in vanilla. About 2 cups frosting.
Note: I did not have Special Dark Cocoa, I used regular Hershey's Cocoa.
https://foodietale.com/dessert/hersheys-decadent-dark-chocolate-cake/