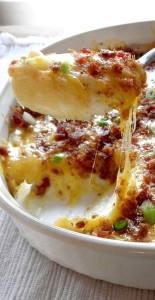 Y'all pretty much know by now how I feel about potatoes, but for those who don't , i can't imagine my way to the local grocery store or flow market without picking up a big bag of potatoes :). Potatoes making a regular appearance on the supper plate in some form, including casseroles like this, that center around potatoes. Whether you take the time to roast them, or boil them and mash, they never seem to disappoint. To me, it means being a meat and potatoes kind of person, right ?? Just imagine them being crisp, greasy, cheesy, and bacony. Mmmm… I might be out of control. Recipes very similar to this casserole popping up just about everywhere in the food blogging community, and mostly they come in a mashed potato form, but this version have a unique flavor that comes from a potato being twice-baked, sour cream, cheddar cheese, bacon and green onion – all the goodies we love to indulge in every once in awhile.
Twice Baked Potatoes Casserole with Cream Cheese, Bacon, and Garlic
Ingredients
9 medium russet potatoes
4 ounces cream cheese
1/2 cup sour cream
4 tablespoons butter
3 cloves garlic, finely chopped
1/2 to 3/4 teaspoon salt
1/4 teaspoon pepper
1/4 to 1/2 cup milk (if potatoes are too thick)
1 jar bacon bits, or a half pound of bacon, fried and cut into bits, or cut into bits and fried
2 1/2 to 3 cups shredded cheddar cheese
canola oil to fry in
sour cream, if desired
3 green onions, sliced
Preheat oven to 350° Fahrenheit. Scrub and pierce potatoes several times with a sharp knife. Bake potatoes at 350° for about an hour, or until potatoes give when squeezed gently with an oven-mitted hand.
When potatoes are done, cut in half and carefully scoop out insides, leaving about a 1/4-inch layer of potato inside. Set skins aside.
For the Twice Baked Potatoes in a Dish:
Place potato insides in a large bowl or the bowl of a standing mixer. Mix briefly to break potatoes down a little. Add cream cheese, sour cream, butter, chopped garlic, and about 1/2 teaspoon salt and 1/4 teaspoon or so of pepper. Beat until thoroughly mixed, but don't mix to the point of gumminess. If the mixture seems really thick, add up to 1/2 cup milk to smooth it out to the consistency of mashed potatoes.
Spray a large casserole dish with non-stick cooking spray. Spread potato mixture into the prepared pan.
Cover with foil and bake for 40 minutes at 325°.
Immediately after removing from oven, cover the top with 1 cup of cheese. Then sprinkle with about 2/3 of the bacon and sliced green onions, if desired. Allow to sit for about 10-15 minutes before serving. The heat from the potatoes will melt the cheese perfectly.
Makes about 9-10 servings.
For the Potato Skins:
After scooping out potato insides, you should have 18 half skins. Cut each of those in half, so you have quarter skins.
Heat about 2 inches of canola oil in a pan (about 325°). Fry potato skins in batches, careful not to crowd the pan. Once skins are a deep golden brown, remove to a paper towel-lined cooking rack to drain.
Place fried skins, open side up, on a baking sheet. Sprinkle each with cheese and a little bacon. Place in 325° oven for about 5- 10 minutes, or until cheese is melted. Top with sour cream and green onions, if desired.
https://foodietale.com/main-dish/twice-baked-potatoes-casserole-with-cream-cheese-bacon-and-garlic/