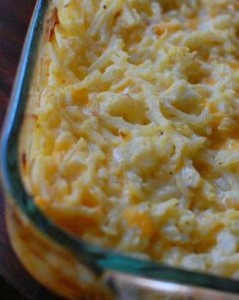 Sometimes ya just need something easy, dontchya?
Cracker Barrel is one of my favorite restaurants to stop at when i have to go for dinner… or lunch… or breakfast…there's something so comforting about their Southern style food…
Did you noticed that there are certain things that you order at your favorite restaurants, each and every time you visit without fail. One of these for me is Cracker Barrel's Hashbrown Casserole- creamy, rich, easy and cheesy.