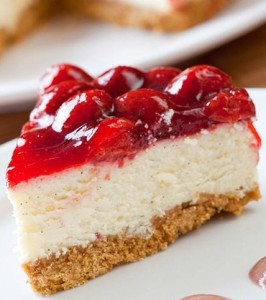 I love anything that has to do with cheesecake. I mean who doesn't? This is probably my favorite fruit type of cheesecake right now. I love it because it is so delicious, easy to make and it makes the most perfect delicious treat. It is always a huge hit and I've had several people ask for this recipe at potlucks so here it is.
Easy Strawberry Cheesecake
Ingredients
Graham Cracker Crust
----------------
1 package graham crackers finely crushes
1/4 cup sugar
3-4 Tbls butter or margarine melted
-----------------
Filling
-----------------
1 pkg cream cheese
1/3 cup powder sugar
2 cups thawed cool whip
1 lb carton of strawberries, washed and sliced
strawberry glaze or strawberry flavored Junket made up
Stir together graham crackers and sugar. Mix in melted butter completely.
Press into a pie tin going up the sides too. Bake at 300 degrees for 5-8 minutes.
Let cool before filling it. Beat cream cheese and powder sugar then fold in cool whip.
Spread cream cheese mixture in the bottom of the graham cracker crust.
Stir together strawberries and glaze then pour strawberries over the cream cheese layer.
Let chill for a few hours then ENJOY!
https://foodietale.com/dessert/easy-strawberry-cheesecake/