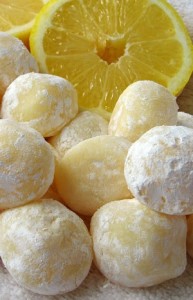 Are you tired of desserts yet? I hope not because this one I'm sharing with you today is one of my new obsessions. I love making truffles, and when I saw this truffle recipe, I was little sceptical, but believe me, as white chocolate and lemon might sound like a strange combination to you, it works. These white chocolate lemon truffles are deliciously sweet and creamy with a pronounced lemon flavor. They have a melt-in-your-mouth texture, and the addition of the sugar coating gives a nice texture contrast.
White Chocolate Lemon Truffles
Ingredients
1 cup white chocolate
5 Tbsp. unsalted butter
3 Tbsp. heavy cream
pinch salt
1 tsp. lemon extract
icing sugar, for dusting
Melt chocolate, butter and cream over a double boiler or in a microwave. Stir until smooth.
Stir in salt and extract. Allow to cool slightly before covering with plastic wrap.
Refrigerate for 2 hours or until firm enough to handle.
With a melon baller or small spoon scoop out mixture and form into 1 inch balls.
Toss with icing sugar to coat.
Store covered in the fridge for up to one week.
Freeze for longer storage.
https://foodietale.com/dessert/white-chocolate-lemon-truffles/