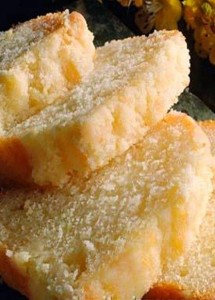 As you well know, condensed milk makes a lot of stuff taste better. Condensed milk on toast, condensed milk drizzled on top of shaved ice, condensed milk in tapioca milk tea. At the end of last week I was browsing Pinterest ( Me on Pinterest – So Strange!) and I came across a recipe for a condensed milk pound cake that caught my attention. I've always liked the flavor of condensed milk. This Pound Cake with Condensed milk will sweeten your life in more ways than one, and Pound cake doesn't get much easier – or tastier, than this.
Condensed Milk Pound Cake
Ingredients
3/4 cup (8 oz) sweetened condensed milk
1 cup (8 oz) unsalted butter, at room temperature, plus more for greasing the pan
1 1/3 cups (7 oz/) all-purpose flour
3/4 tsp baking powder
1/2 cup (3 3/4 oz ) sugar
1 vanilla bean, chopped, or 2 tsp vanilla extract
1/2 tsp salt
3 large eggs
Preheat the oven to 325° F.
Generously butter an 8 1/2 x 4 1/2 – inch loaf pan and set aside.
Sift together the flour and baking powder and set aside.
Put the sugar and the chopped vanilla bean, if using, in the bowl of a food processor fitted with the metal blade and pulse until the vanilla bean is finely ground.
Sift through a fine-mesh sieve and return the sugar mixture to the food processor.
If not using the vanilla bean, just put the sugar in the processor.
Add the butter and salt and process until light and fluffy, about 2 minutes, scraping down the sides and bottom of the bowl occasionally.
Add the condensed milk and pulse until well incorporated, about 15 times, scraping down the sides of the bowl once.
Add the sifted dry ingredients and pulse until no traces of flour remain, about 10 times.
Add the eggs and pulse just until combined, about 5 times.
Scrape down the sides and bottom of the bowl, add the vanilla extract, if using, and finish mixing by hand to fully incorporate the eggs.
Transfer the batter to the prepared loaf pan.
Bake until the top is dark golden brown and a tester inserted in the center comes out clean, 65-75 minutes.
Cool completely in the loaf pan on a rack, then unmold.
https://foodietale.com/breakfast-and-brunch/condensed-milk-pound-cake/