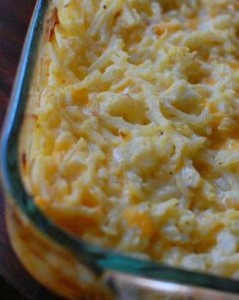 Sometimes ya just need something easy, dontchya?
Cracker Barrel is one of my favorite restaurants to stop at when i have to go for dinner… or lunch… or breakfast…there's something so comforting about their Southern style food…
Did you noticed that there are certain things that you order at your favorite restaurants, each and every time you visit without fail. One of these for me is Cracker Barrel's Hashbrown Casserole- creamy, rich, easy and cheesy.
Easy comfort food. Now, I've tried many many many versions of Cracker Barrel's hashbrown casserole copy cat recipe BUT none of them ever quite made the cut. There was always something different….too much sour cream, not enough cheese, low flavor, soggy potatoes, etc. and I must say that this recipe from Food magazine is probably as close as I'll ever come to the original Cracker Barrel hashbrown casserole recipe.
Cracker Barrel's Hashbrowns Casserole – Copycat
Ingredients
1 pint sour cream
1/2 cup onion, peeled and chopped
2 cups cheddar cheese, grated
2 lbs frozen hash browns
1/2 cup margarine or 1/2 cup butter, melted
1 (10 1/4 ounce) can cream of chicken soup
1 teaspoon salt
1/4 teaspoon pepper
Preheat oven to 350°F and spray an 11 x 14 baking dish with cooking spray.
Mix the above ingredients together, place in prepared pan and bake for 45 minutes or until brown on top.
https://foodietale.com/main-dish/cracker-barrels-hashbrowns-casserole-copycat/