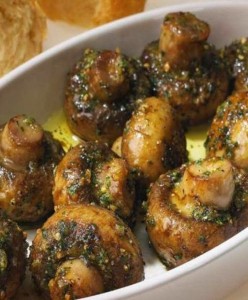 What is the best way to have mushrooms? With butter and garlic, of course! I was talking on Facebook the other day about how I will try to shy away from using those recipe-related superlative adjectives, like ultimate, perfect or Best Ever. Opting, instead, for a more provocative descriptive word, like Sensational. See these mushrooms? These mushrooms roasted in a hot oven taste Sensational, and I could literally have them for a side dish every.single.night. My friend, once you try these ultimate, perfect, best ever morsels, you'll agree that they are truly sensational!
Ingredients
3 tbsp corn or vegetable oil
75g unsalted butter, softened
3 cloves garlic, chopped very finely
50g fresh breadcrumbs
16 even-sized open cup mushrooms, stalks cut level
2 tbsp fresh thyme, chopped
1 1/2 tbsp lemon juice
salt and freshly ground black pepper to taste
Lightly fry the mushrooms, cap-side down, in hot oil for 20 seconds.
Preheat the oven to 400F.
Arrange the mushrooms in a shallow roasting tin with the stalks facing upwards.
Mix together the butter, garlic, thyme, lemon juice and seasoning.
Spoon a little garlic butter on to each mushroom, then lightly press the breadcrumbs on top.
Either refrigerate for later use, or cook immediately in the oven for 10 minutes.
https://foodietale.com/appetizers/roasted-garlic-mushrooms/