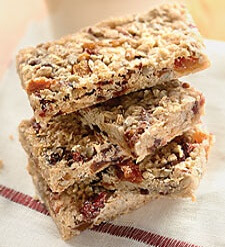 I am a self proclaimed addict of peanut butter, nuts, dried fruits and pretty much anything that can be formed into a granola bar shape. Maybe it's an ingrained snacking habit from the countless bars eaten between meals but I nearly always have a granola bar or two close at hand. Loaded with yummy ingredients, these homemade chewy granola bars from King Arthur Flour are the perfect snack and can be easily customized to taste with your own favorite fruits and nuts.
Ingredients
2 to 3 cups dried fruits and nuts*
1 teaspoon vanilla extract
1/4 cup melted butter or vegetable oil
1 2/3 cups quick rolled oats
1 cup + 2 tablespoons Sticky Bun Sugar
1/3 cup granulated sugar, optional
1/3 cup oat flour (or 1/3 cup quick oats, processed till finely ground in a food processor or blender)
1/2 teaspoon salt
1/4 teaspoon ground cinnamon, optional
1/4 cup honey, maple syrup or corn syrup
1 tablespoon water
Preheat the oven to 350°F. Lightly grease a 9" x 13" pan.
Stir together all the dry ingredients, including the fruit and nuts.
In a separate bowl, whisk together the vanilla, melted butter or oil, syrup or honey, and water.
Toss the wet ingredients with the dry until the mixture is evenly crumbly.
Spread in the prepared pan, shaking the pan to evenly cover the bottom and patting down gently
Bake the bars for 25 to 30 minutes, until they're golden brown around the edges.
Remove them from the oven, loosen the edges, and cool for 5 minutes.
Use a knife (or bench knife) to cut the bars while they're still warm in the pan.
Carefully remove warm bars from the pan, and cool on a rack.
Alternatively, remove from the pan before cutting into bars; it helps to cut in half first, then loosen the bottom of each half with a turner/spatula before turning out onto a sheet of parchment to cut into bars.
Wrap bars individually to store; or place in a single layer on a plate, and cover with plastic; or store in layers with parchment in between. In humid weather, it's best to store bars in the refrigerator. They also freeze well.
https://foodietale.com/snacks/homemade-granola-bars/