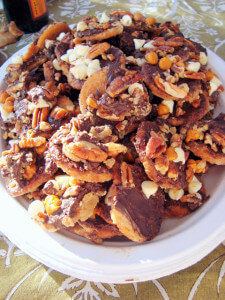 Am I being clear here? This stuff is so utterly crazy addictive that I have actually sat here and struggled to find words to describe it. Let me paint this picture for you: it is one of those treats that people take a little handful to start off with, then keep sneaking back for more because they can't stay away. Embarrassing? Only til y'all try it and see what I'm talking about.
Call this candy what you like, or simply call it crack because it's just that dang addictive! If you are a salty/sweet combo person, you are going to LOVE this treat. I am simply powerless when it comes to resisting this dessert.
Ingredients
1 to 2 sleeves of Ritz crackers
1 1/2 cup unsalted butter
1 1/2 cup firmly packed brown sugar
1/2 cup chocolate chips
1/2 cup chopped pecans
1/2 cup peanut butter chips/white chocolate chips
Preheat oven to 350 degrees. Line a baking sheet with aluminum foil or parchment paper and arrange the crackers on it in a single layer.
Melt butter and brown sugar together in a sauce pan over medium-low heat. After it's melted, increase heat to medium-high and boil for 3 minutes, stirring constantly. Pour this mixture over the cracker layer.
Bake for 5 minutes and remove from oven. Sprinkle crackers with chocolate chips and place back in the oven for 3 minutes (the oven will be turned off but still warm). Spread the melted chocolate over crackers and top with pecans and remaining chips. Allow to cool completely and break apart to serve.
https://foodietale.com/snacks/ritz-cracker-candy/