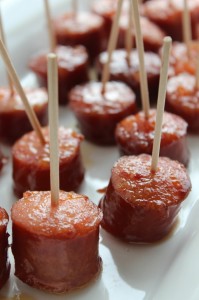 November is here!!! The leaves have changed color and sadly fallen to the ground, but I'm looking forward to all that is coming up next months : Thanksgiving, Christmas and my favorite New Year's holiday. Why is that ? All week on the blog I'll be doing a few special New Year's related posts, starting out with why it's my favorite holiday. But first thing first, look here it's a thing. A real thing that's just yummy and delicious that you really need to experience and enjoy all it's flavor glory. This crazy easy recipe to make from Tammilee tips, is great for dinner parties, pot-lucks and picnics too.
Perfect for Fall, but you can make him just about for any day of the year.
You can substitute meatball or cocktail franks for the kielbasa. I'm sure that by now everyone's heard of Kielbasa because there are so many recipes floating on internet out there and they seem to be growing quickly in popularity. In case you haven't heard of them, they are the Polish and Ukrainian sausage. In English, these words refer to a particular genre of sausage, common to all Central and Eastern European, but in Poland or Ukrainian these are the generic words for all types of sausage, local or foreign.
And i m just about to stop talking , and you go ahead and dig in !
Please look preparation method at :