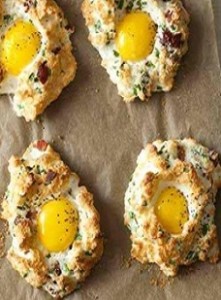 It all started with a book, a children's book called La cuisine est un jeu d'enfants, or "Cooking is Child's Play". There is a fairly simple and intriguing recipe for "egg nest" or "nid d'oeuf". Unlike most egg nest recipes with which you may be familiar, this one doesn't use bread, just only 5 ingredients.
Ingredients
4 eggs
1/4 cup grated pecorino-romano
1/4 cup chopped chives
1/4 cup crumbled bacon
Pepper
Separate eggs, putting whites in 1 large bowl and yolks in 4 separate small bowls.
Whip whites until stiff peaks form.
Fold in cheese, chives and bacon.
Spoon into 4 mounds on parchment-lined baking sheet; make a deep well in center of each.
Bake at 450 degrees for 3 minutes, then and 1 yolk to each well; season with pepper.
Bake until yolks are just set, 2 to 3 minutes.
https://foodietale.com/breakfast-and-brunch/eggs-in-clouds/