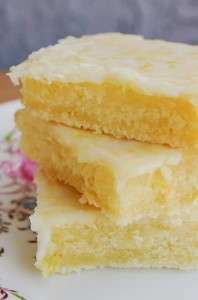 When life gives you lemons… make lemon brownies. Life tip? I guess so. Don't get me wrong, I loooove chocolate. Deeply. I'll admit it. I'm not ashamed. But every now and then, particularly in the spring, I start craving for Lemon pie, Lemon curd muffins, Lemon brownies… just name it. Despite the absence of chocolate, these babies are referred to as "brownies" because they have the same moist and fudgy texture as our beloved brownies. Taste of Lemon brownies are a little hard to describe so you'll just have to make these babies from Budding Baketress blog and see for yourself! Trust me. You won't regret it.
Cakey Lemon Bar "Brownies"
Ingredients
Brownies
3/4 cup all-purpose flour
3/4 cup granulated sugar
1/4 teaspoon salt
1/2 cup (1 stick) butter, softened
2 large eggs
2 1/2 teaspoons lemon zest
2 tablespoons lemon juice
Lemon Glaze
1/2 cup powdered sugar
1 tablespoon lemon juice
2 teaspoons lemon zest
Preheat oven to 350°F. Spray an 8-by-8-inch baking dish with cooking spray and set aside.
Zest and juice two small lemons; set aside.
In the bowl of an electric mixture fitted with the paddle attachement, beat the flour, sugar, salt, and softened butter until combined.
In a separate bowl, whisk together the eggs, lemon zest, and lemon juice until combined.
Pour into the flour mixture and beat at medium speed until smooth and creamy, about 2 minutes.
Pour into baking dish and bake for 25 minutes, or until just starting to turn golden around the edges and a toothpick inserted into the center of the brownies comes out clean.
Allow to cool completely before glazing.
When brownies are cooled completely, make the glaze by whisking together all three ingredients. Spread over the brownies with a rubber spatula, cut into bars, and serve!
https://foodietale.com/dessert/cakey-lemon-bar-brownies/