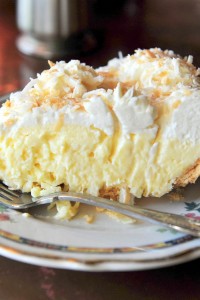 I have been wanting to share this recipe for awhile now but just kept forgetting. Seems like my tastebuds went to savory side during New Years holidays, so I wanted to change things up a bit. Today I am bringing you a recipe for a sweet treat which also happens to be one of my favorite old fashioned desserts. Coconut Cream Pie!!!
I love just about any cream pie whether it's banana, chocolate or coconut. I do have to say this is the best coconut cream pie I have tasted.
Old Fashioned Coconut Cream Pie
Ingredients
1 cup sweetened flaked coconut
3 cups half-and-half
2 eggs, beaten
3/4 cup white sugar
1/2 cup all-purpose flour
1/4 teaspoon salt
1 teaspoon vanilla extract
1 (9 inch) pie shell, baked
1 cup frozen whipped topping, thawed
Preheat oven to 350 degrees F.
Spread the coconut on a baking sheet and bake it, stirring occasionally, until golden brown, about 5 minutes.
In a medium saucepan, combine the half-and-half, eggs, sugar, flour and salt and mix well.
Bring to a boil over low heat, stirring constantly.
Remove the pan from the heat, and stir in 3/4 cup of the toasted coconut and the vanilla extract. Reserve the remaining coconut to top the pie.
Pour the filling into the pie shell and chill until firm, about 4 hours.
Top with whipped topping and with the reserved coconut.
https://foodietale.com/dessert/old-fashioned-coconut-cream-pie/