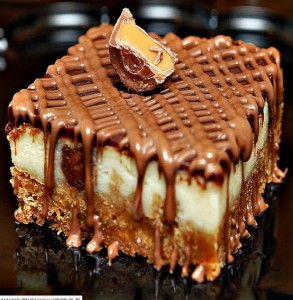 Need a Rolo recipe? Who doesn't, right. Well here you go candy addicts. Can you say sinful? This copycat dessert is the definition of decadence. Danielle from Hugs and Cookies presents a treat with many layers of flavor. So check out what you can do with a bag of mini Rolos. Yes, that's right you are looking at some Rolo cheesecake bars. That's a graham cracker crust topped with a caramel cheesecake body. Folded into that caramel rich body are some mini Rolos for a candy fix. Then finishing it all off is a layer of dark bittersweet chocolate with some caramel zig-zagging. Try it today!
Rolo Cheesecake Bars by Danielle
Ingredients
CRUST:
3 cups of graham cracker crumbs
1 cup sugar
2 STICKS MELTED BUTTER (16 TABLESPOONS)
FILLING:
2 8-OUNCE PACKAGES OF CREAM CHEESE
2 EGGS
1C. SUGAR
1/4C. FLOUR
ONE PACKAGE OF MINI ROLOS (THE UNWRAPPED ONES)
GLAZE:
1 STICK BUTTER
6 OUNCES CHOCOLATE CHIPS.
4 TSP. LIGHT CORN SYRUP.
https://foodietale.com/dessert/rolo-cheesecake-bars-by-danielle/
Please look preparation method at :