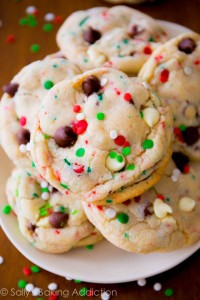 Let's celebrate…..
Christmas is approaching. Have you noticed? Evergreens,striped mint candy and sugar cookies are suddenly in high demand. Men in red suits roam the streets, and bargain hunters crowd the stores. Yard displays and flickering Christmas lights brighten the night. The clerks at the checkout counter wear hats they would feel silly in at any other time of year.
Let's celebrate……

Because Christmas is approaching….
If being the middle of december isn't reason enough for you, let's bake & celebrate wonderful Sally's Cake Batter Chocolate Chip Cookies.
Celebrate good times. C'mon…..
Cake Batter Chocolate Chip Cookies by Sallys baking addiction
Ingredients
1 and 1/4 cup (160g)all-purpose flour
1 and 1/4 cup (190g) yellow or vanilla boxed cake mix (I typically use vanilla cake mix)
1/2 teaspoon baking soda
3/4 cup (1.5 sticks or 170g) unsalted butter, softened to room temperature
1/2 cup (100g) granulated sugar
1/2 cup (100g) light brown sugar
1 egg, at room temperature
1 and 1/2 teaspoons vanilla extract
1 cup (180g) chocolate chips (I used a blend of white and semi-sweet chocolate chips)
1/2 cup (80g) sprinkles
https://foodietale.com/holiday/cake-batter-chocolate-chip-cookies-by-sallys-baking-addiction/
Please look preparation method at :