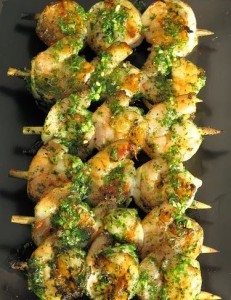 There are a few things that are 100% necessary for summer. Like a lots of sunscreen, sundresses, sunglasses, a barbecue and a recipe for success. This Cilantro Pesto Shrimp recipe is one of them. You can't go wrong with shrimp. Especially when you cook them on the barbecue with Cilantry Pesto involved, it's absolutely perfect for brushing on grilled or barbecued shrimp! Complete deliciousness! You've got a recipe for a fabulous dinner. Did I miss anything? Okay, maybe a glass of sangria!
Ingredients
1 lb local or wild medium shrimp (21-30′s- between 21 and 30 per pound) Peeled & De-veined (P&D's if you want the lingo)
1/2 cup cilantro pesto
7 x 8′ wooden skewers
Cilantro Pesto recipe
Makes 2 cups (extra for another time)
2 bunches cilantro – packed
2 cups baby spinach – packed
1 lemon – zested
1/2 lemon – juiced
2 tablespoons toasted pine nuts – toast in a dry heated saute pan for 3-4 minutes stirring periodically until browned
1/4 cup grated Parmesan (low fat preferably)
1 1/2 cups olive oil
S&P to taste
Shrimp Skewers
Soak the wooden skewers for at least 2 hours.
This will help prevent them from going up in flames when they hit the grill.
I prefer to marinate the shrimp first before skewering to keep the skewers nice n clean.
Marinate the shrimp for at least 2 hours up to 6.
Once marinated, with clean hands skewer 3 shrimp on each skewer.
You can of course use larger metal skewers if you prefer.
The skewers are really only for cooking purposes so you don't end up loosing some shrimp on the grill.
On a preheated hot grill, sear each skewer for 2 minutes each side until shrimp turn opaque and are firm to the touch.
Cilantro Pesto
Add all pesto ingredients in a food processor, except for olive oil.
Blend and while blitzing gradually pour in olive oil.
Season with ¼ tsp. salt and ¼ tsp. pepper. Done.
https://foodietale.com/main-dish/cilantro-pesto-shrimp/