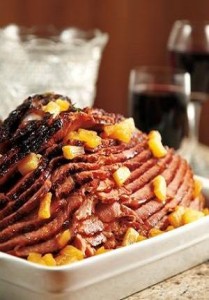 So far this week, i share with you Rolo Stuffed Ritz Crackers and Sugar Cookies recipe, which means i need now to cut the sugar down but craving for sweet doesnt seem to want to leave me .So i decided to share this wonderful ham recipe so good and succulent. – "Hey, what are you rambling about " ?! "Craving for sweet and bacon" ?! – "ok, ok here goes"
This recipe stood out to me for 2 reasons.
1. It cooks in the crock pot.
2. It called for 3 cups of brown sugar.
And seriously?! Who doesn't love brown sugar? 🙂
Ingredients
1 ham, precooked, bone-in, spiral cut
3 cups brown sugar
1 can of pineapple tidbits, undrained OR 20 oz can of crushed pineapple, undrained
dash of cinnamon
1. Put the brown sugar on the bottom of the crockpot. Make sure you are using a crockpot that is big enough for the ham, a 6 qt crockpot is what I use.
2. Place ham on top of brown sugar.
3. Pour pineapple with the juice over the ham. And then sprinkle the ham with a little more brown sugar and a dash of cinnamon.
4. Cover and cook on low for 6-8 hours or high for 3-4 hours.
https://foodietale.com/main-dish/crock-pot-ham/