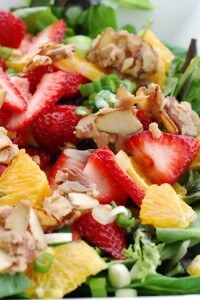 Strawberries bid adieu to winter, ushering in the freshness of Spring and Orange Strawberry Salad is a delicious way to say hello to spring—going green, fresh (and red). So beautiful and easy to prepare and it can be served in smaller bowls rather than tossed in one large bowl, with dressing applied individually. When it comes to salad dressing, there are a lot of issues. There are too many options and there is no reason to pay $4-5 for ambiguously-labeled salad dressing when you can easily make your own healthy version for half the cost and this orange dressing recipe is just that case.
Orange Dressing with Orange Strawberry Salad
Ingredients
Orange Strawberry Salad
1 package spring mix greens
1 pint strawberries, sliced
1 large orange, cut into small pieces
3 green onions, sliced
1 cup Sliced Almonds
4 TBS butter
4 TBS sugar
(To make candied almonds: Mix almonds, butter and sugar in a saucepan over medium heat until the the butter and sugar turn to a toffee color, stir constantly.)
Orange Dressing
½ tsp grated orange peel, or orange zest
1/3 cup fresh orange juice ( 1 to 2 oranges )
2 Tablespoons red wine vinegar
2 Tablespoons sugar
½ cup vegetable oil
1 Tablespoon "Good Seasons Dry Italian" dressing mix. It is about ½ a package
Put all ingredients in a container and shake.
Serve.
https://foodietale.com/salads/orange-dressing-with-orange-strawberry-salad/