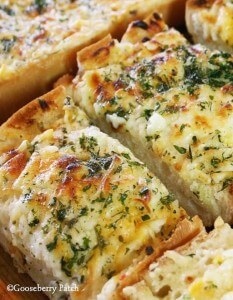 They say "Man can not live by bread alone" but I bet if you added some cheese and garlic to it you could! "Did i hear mumbling from the behind" ?? "You don't love the bubbly wonderfulness of piping hot garlic cheese bread" ?? Write this date on your calendar. Because that's all about to change. I can't think of a better thing to accompany a delicious Italian meal than this cheesy, buttery garlic bread from Gooseberry Patch magazine. Words cannot describe how good this bread is, so please just do yourself a favor and make it. Now! I know it is sinful, but so worth it.
Bubbly Cheese Garlic Bread
Ingredients
1/2 c. butter, softened
1 to 2 cloves garlic, crushed
1/2 to 1 c. creamy Italian salad dressing
1 loaf Italian bread, halved lengthwise
2 c. shredded Cheddar, mozzarella or Monterey Jack cheese
2 t. dried parsley
Blend butter, garlic and salad dressing together in a small bowl.
Place bread on a baking sheet, cut-side up.
Spread butter mixture over both halves.
Top with shredded cheese and parsley.
Bake, uncovered, at 375 degrees for 10 to 20 minutes, until cheese is melted and bubbly.
Slice each half into 8 pieces; serve warm.
Makes 16 servings.
https://foodietale.com/appetizers/bubbly-cheese-garlic-bread-from-gooseberry-patch/