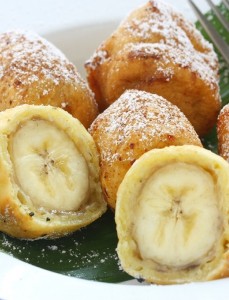 Did you know eating bananas can cheer you up? –
They are excellent source of vitamin B6 which assist the body to produce serotonin- a natural chemical that helps maintain a "happy feeling," and seems to help keep our moods under control by helping with sleep, calming anxiety, and relieving depression.
Thus, I'm always looking for a treat that satisfies my sweet tooth without a bunch of guilt. Next to raisins, bananas are like nature's candy or dessert, plain or fried you name it !
Ingredients
2 eggs
1/2 cup milk
2 Tablespoons oil
1 cup all purpose flour
1 teaspoon sugar
1 teaspoon baking power
1/2 teaspoon salt
1 Tablespoon ground cinnimon
5 firm bananas
1/2 cup icing sugar
Vegetable oil for cooking, enough for about 2 inches in the pot.
Beat eggs with milk and oil.
Add sugar, flour, cinnamon,salt and baking powder and whisk until smooth.
Slice the bananas and dip bananas in batter.
Heat the in a heavy bottom pot over medium until it reaches 350 degrees.
Drop in a few coated bananas at a time and cook for for 6-9 min or until golden brown.
Remove with slotted spoon onto a plate lined with paper towels.
Work in batches until they are all cooked.
Sprinkle with icing sugar.
https://foodietale.com/appetizers/fried-banana-bite/