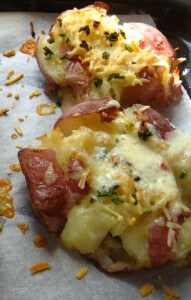 Preparing a dish of Cuban crushed potatoes is a wise choice if you are either vegetarian yourself, or think you may have some vegetarians among your dinner guests or want to serve unexpected guests something tasty in matter of minutes. Here is something quick and easy. This dish from big oven magazine can be ready in matter of minutes and is sooo very tasty that your friends will lick their fingers.
Ingredients
4 new potatoes
1 tbsp olive oil
1 clove garlic; crushed
1 tbsp chives; chopped
1 Salt; to taste
pepper; to taste
2 tbsp cheese; grated, I used Pepper Jack
1 tbsp Parmesan
Herbs of choice; optional
Wash potatoes well and place in salted water.
Bring to boil and cook till fork tender (15-20 minutes).
Mix oil with crushed garlic clove....and any herbs you like.
Set aside.Line a baking sheet with parchment.
Place the potatoes on the parchment.
Using a potato crusher, crush the potatoes carefully.
You may also use a paper towel and press the potatoes with your palm.
Just be gentle.Sprinkle some salt and pepper.
Drizzle the garlic oil herb mixtrure over the potatoes.
Add some Parmesan/Pepper Jack cheese and chives.
Broil for 7-10 minutes or until nice and crispy.
Sprinkle with additional chives.
Sometimes, I bake the potatoes with the Parmesan cheese for 10-15 minutes, add the Pepper Jack cheese at the last moment, and then broil until golden brown.
https://foodietale.com/appetizers/cuban-crushed-potatoes/