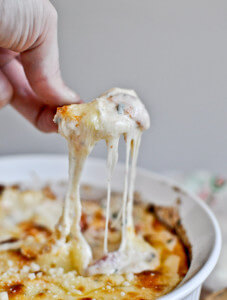 When I was trying to come up with an idea for today's theme, I happened to have a serious hankering for something cheesey, tangy like Pizza , which got me to thinking…No more recipe theme police! Very exciting. So, today I'm sharing an absolutely fantastic White Pizza Dip recipe from How Sweet It Is.
It contains a lot o'cheese, I do eat healthy – I promise lol . You can think about it in a way that White Pizza Dip is a socializing type food. A Christmas Party is a perfect socializing event, and it's one of those days you don't count calories, i guess……
So there is three words to sum of this dish: Tangy, Cheesey, and Garlicky.
White pizza dip from How sweet it is
Ingredients
1 pint grape tomatoes, tomatoes cut in half
1 teaspoon olive oil
1/4 teaspoon salt
1/4 teaspoon pepper
1 1/2 (12 ounces) blocks cream cheese, softened
8 ounces mozzarella cheese, freshly grated
8 ounces provolone cheese, freshly grated
1/4 cup finely grated parmesan cheese + more for garnish
4 garlic cloves, minced or pressed
1/4 cup freshly chopped basil leaves
2 tablespoons freshly chopped thyme leaves
1/2 tablespoon freshly chopped oregano leaves
crackers, bread or chips for serving
https://foodietale.com/main-dish/white-pizza-dip-from-how-sweet-it-is/
Please look preparation method at :