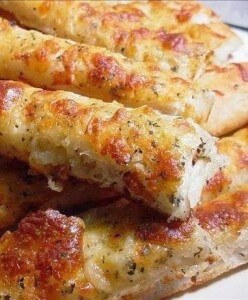 They say "Man can not live by bread alone" but I bet if you added some cheese to it you could! Who doesn't love cheese and bread? They just go together so well. And what is even better than just cheese and bread? Warm bread with cheese melted on top. so easy, so cheesy, so good, you should only make these bread sticks from Food Magazine when surrounded by plenty of people to help you eat them. Otherwise, you may end up eating all by yourself and no one to stop you.
Ingredients
1 (10 ounce) can prepared pizza crust
1 tablespoon butter, melted
1/2 cup provolone cheese, shredded
1 tablespoon parmesan cheese
1 tablespoon dried basil
1/4 teaspoon garlic salt
Preheat oven to 425.
Unroll pizza dough onto a greased cookie sheet and brush with butter.
Sprinkle cheeses and spices evenly over the dough.
With a pizza cutter, cut dough lengthwise into 12 long strips. Then cut those in half to make 24 strips.
Do not seperate strips.
Bake for 10-12 minutes or until light golden brown.
Recut along each strip and remove from cooking sheet.
Serve sticks warm with marinara sauce.
https://foodietale.com/appetizers/easy-cheesy-breadsticks/