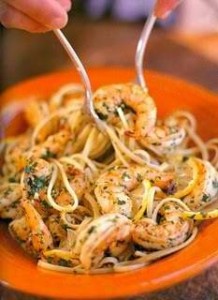 This Lemon Shrimp Scampi with Linguine is the perfect dish. When hosting a dinner party I always worry about cooking too much food, or even worse, not having enough, and this dish satisfied the bellies of six adults with just a tiny bit of leftovers. It is one of my favorites to fix for company – it somehow seems elegant, costs very little to make and takes 10-15 minutes, and Like most great Italian 'recipes' the recipe is not really a recipe, but a list of ingredients. No butter? Just use more olive oil and maybe a little extra garlic for more flavor.
Recipe is so versatile because you can use what ever ingredients you want or have on hand at the time like add tomatoes, mushrooms, spinach, pancetta, basil, olives or some heavy cream.
Recipe from Ina Garten, Barefoot Contessa Family Style
Linguine with Shrimp Scampi
Ingredients
Vegetable oil
Kosher salt
1 1/2 pounds linguine
6 tablespoons (3/4 stick) unsalted butter
5 tablespoons good olive oil
3 tablespoons minced garlic (9 cloves)
2 pounds large shrimp (about 32 shrimp), peeled and deveined
1/2 teaspoon freshly ground black pepper
3/4 cup chopped fresh parsley
Grated zest of 1 lemon
1/2 cup freshly squeezed lemon juice (4 lemons)
1/2 lemon, thinly sliced in half-rounds
1/4 teaspoon hot red pepper flakes
Drizzle some oil in a large pot of boiling salted water, add 1 tablespoon of salt and the linguine, and cook for 7 to 10 minutes, or according to the directions on the package.
Meanwhile, in another large (12-inch), heavy-bottomed pan, melt the butter and olive oil over medium-low heat.
Add the garlic. Sauté for 1 minute.
Be careful, the garlic burns easily! Add the shrimp, 1 tablespoon of salt, and the pepper and sauté until the shrimp have just turned pink, about 5 minutes, stirring often.
Remove from the heat, add the parsley, lemon zest, lemon juice, lemon slices, and red pepper flakes. Toss to combine.
When the pasta is done, drain the cooked linguine and then put it back in the pot.
Immediately add the shrimp and sauce, toss well, and serve.
https://foodietale.com/main-dish/linguine-with-shrimp-scampi/