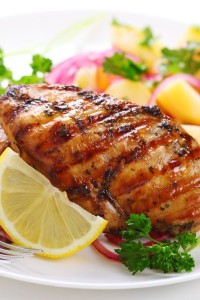 A quick and simple recipe – perfect for a weeknight!
Every so often a little recipe comes along that is just a sheer stroke of brilliance. I love recipes like that. I live for recipes like that. The most recent one to make me do a double-take of glee is this one, from Kraft Magazine .
Grilled Lemon Oregano Chicken Breast
Ingredients
1/4 cup Kraft Extra Virgin Olive Oil Sun-Dried Tomato Dressing
4 small boneless skinless chicken breast s (1 lb.)
1 Tbsp. chopped fresh oregano
1 lemon , cut into 8 slices, divided
Heat barbecue to medium heat.
Pour dressing over chicken in resealable plastic bag.
Add oregano and 4 lemon slices; seal bag.
Turn to evenly coat chicken with dressing, squeezing lemon slices in bag to release their juices. Refrigerate 30 min. to marinate.
Remove chicken from marinade; discard bag and marinade.
Grill chicken 5 to 7 min. on each side or until done (170°F)
Serve chicken with fresh lemon slices.
https://foodietale.com/appetizers/grilled-lemon-oregano-chicken-breast/