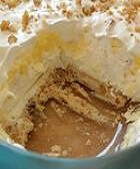 Hiya ! hold on, stop by and Get that touch of summer and Coconut. Mom's Texas Delight. The name says it all… these are simply DELIGHTFUL! I remember the first time I had this dessert. Its cool, refreshing and not overly sweet. Just perfect for a hot summer's day, or if by chance there are any leftovers it's even better the next day.
Ingredients
1 cup all-purpose flour
1/2 cup finely chopped pecans
1/2 cup butter or margarine, melted
1 (8 ounce) package cream cheese, room temperature
1 cup confectioners' sugar
1 cup frozen whipped topping, thawed
2 (3.5 ounce) packages instant coconut cream pudding mix
2 cups milk
3 cups frozen whipped topping, thawed
Preheat the oven to 350 degrees F .
In a medium bowl, stir together the flour, 1/2 cup pecans and melted butter or margarine.
Press into the bottom of a 9x13 inch baking dish.
Bake for 15 minutes in the preheated oven, then chill until cold.
In a medium bowl, mix together the cream cheese and confectioners' sugar until smooth.
Stir in the whipped topping. Drop spoonfuls onto the chilled crust, and spread evenly.
Return to the refrigerator while you prepare the next layer.
In a medium bowl, mix together the pudding mixes and milk.
Yes this is half as much milk as the package states.
Spread over the cream cheese layer. Chill until set.
Spread remaining whipped topping over the top, and garnish with chopped pecans.
https://foodietale.com/dessert/moms-texas-delight/