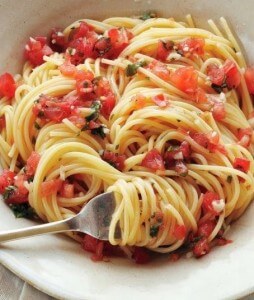 First , I wanted to be clear. You'll have to buy a heap of fresh tomatoes, parsley, garlic and basil. Because this isn't tomato sauce (aka ketchup) that you have on a sausage. This is pasta sauce, made with fresh tomatoes. Just like I said above.Now that we've cleared that up, let's get cracking.
Pasta with Fresh Tomato Sauce
Ingredients
11/2 lbs plum tomatoes
1/8 cup fresh basil leaves
2/3 tbsp flat leaf parsley
2/3 tbsp chopped garlic (from 2 garlic cloves, plus more if desired)
1/8 cup extra-virgin olive oil
freshly ground pepper
coarse salt
2/3 lb spaghetti (or spaghettini)
grated parmesan cheese (for serving, optional)
Finely chop tomatoes, basil, parsley, and garlic, and mix together with oil (or pulse ingredients, including oil, in a food processor to blend).
Bring a large pot of salted water to a boil.
Add pasta, and cook until al dente.
Drain pasta, and toss it in a serving bowl with the raw sauce.
Transfer to 6 shallow bowls, and drizzle with oil.
Serve with cheese.
https://foodietale.com/pasta/pasta-with-fresh-tomato-sauce/