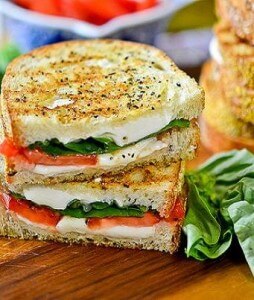 You know what seems to be all the rage in restaurants these days? Fusion, or the combining of several separate cuisines into one dish. The fusion of pizza and sandwiches – why not ? I'm good with that. I love that you can basically turn anything into a sandwich. Which reminds me of the Sandwich King (he's so funny, and I love him)! I wonder what he'd think of this
sandwich? Back to the point. Several days ago, i came across this amazing article at Full fork
ahead about turning a Margherita pizza into a sandwich is perhaps one of the best kitchen
hacks for two reason A) This sandwich was pretty tasty and B) you get to transform your kitchen into the next great Italian-American fusion restaurant!
Grilled Margherita Sandwich
Ingredients
4 (1/2-inch) slices crusty Italian bread
1 large garlic clove, quartered
4 to 6 thin slices whole-milk mozzarella cheese (about 3 oz.)
1 large plum tomato, thinly sliced
2 tablespoons thinly sliced fresh basil
1/2 teaspoon garlic-pepper seasoning
2 tablespoons extra-virgin olive oil
https://foodietale.com/breakfast-and-brunch/grilled-margherita-sandwich/
Please look preparation method at :