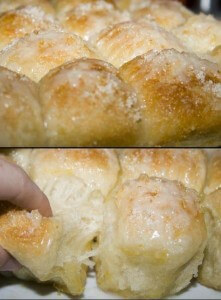 Hello, let's talk breakfast. I'm Introducing here a new breakfast piece. Lemon Monkey Bread. If you like lemons and lemony creations, you will love this one. Please excuse me while I hide out with my lemon monkey bread, because the whole family will love pulling it apart – and don't be surprised by how quickly it disappears. Monkey bread is a scrumptious treat that's as fun to eat as it is tasty and your kiddos will love it and I'm sure it has a lot to do with the name. I mean, monkey bread is just too fun to say.
Ingredients
3 tablespoons butter, melted
zest of 1 lemon
12 Rhodes dinner rolls, thawed but still cold
1/2 cup sugar
Glaze:
1/2 cup powdered sugar
1 Tbsp lemon juice
Cut rolls in half and place in a greased 9×13″ pan.
Drizzle with the melted butter.
Mix lemon zest and sugar together in a small bowl.
Sprinkle HALF of the lemon sugar mixture over the rolls. Cover and let raise till doubled.
Sprinkle remaining sugar mixture on top.
Bake at 350 for about 20-25 minutes. Remove from pan.
Combine glaze ingredients.
Drizzle over rolls while still warm.
https://foodietale.com/breakfast-and-brunch/lemon-monkey-bread/