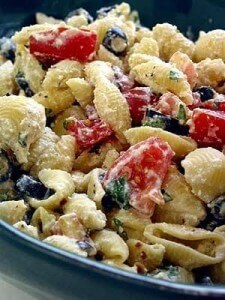 Lunch is such a challenge for me. You know, i often forget to eat lunch because i get working and by the time i realize what time it is – it is time for dinner, or on the other hand sometimes when i get home earlier and want a nice fresh meal it seems so difficult to come up with something quick to make. i find that having soup or pasta salad in the fridge is the only solution to my dilemma. The best part of pasta salad is you can make a huge batch of it and eat it all week for lunch. there is enough going on in the dishes so you don't get sick of them.
Roasted Garlic, Olive and Tomato Pasta Salad
Ingredients
4 small tomatoes (about 1 pound), roughly diced
1 cup black or green olives, sliced
1/3 cup firmly packed cup fresh basil leaves, thinly sliced
3 small heads garlic
Olive oil
1 pound medium pasta shells
15 ounces whole or skim milk ricotta
3/4 cup whole milk yogurt
1 1/4 teaspoon salt
Freshly ground black pepper
Heat the oven to 400°F. Slice the tops off the garlic heads.
Drizzle with olive oil and place in the center of a large square of foil and fold to seal.
Place the packet in a baking pan and roast for 40 to 50 minutes, or until the garlic is very soft. Remove, and let cool.
Cook the pasta according to directions. Drain and remove to a large bowl.
Toss with a little olive oil, and let cool while making the dressing.
Whisk the ricotta and yogurt together until lightened and smooth, and add in all of the roasted garlic - squeezing the soft garlic out of each clove.
Whisk vigorously, until the garlic is well-incorporated.
Whisk in the salt and season generously with black pepper.
Season to taste with salt and pepper.
Pour the ricotta mixture over the pasta and add the tomatoes, olives, and basil.
Toss to coat. Taste and season further if needed with salt and pepper.
Serve slightly warm or chilled.
The texture is best when served immediately, but the garlic flavor improves overnight, so either way it's good!
https://foodietale.com/salads/roasted-garlic-olive-and-tomato-pasta-salad/