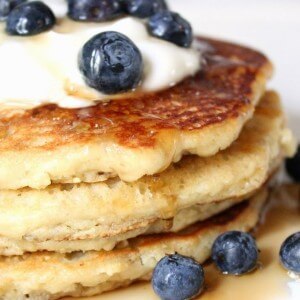 So on a scale from one to ten, how sick are you of cooking and baking? I am thoroughly sick of it myself. But if I were inclined to whip up something interesting, I may very well want to make these low carb Gluten-Free Almond Pancakes. They're easy, fun and healthy but I never thought low-carb pancakes could be so delicious!
These pancakes have almost no sugar, so serve with Greek yogurt, fresh fruit, or your favorite sugar-free maple-flavoured syrup.
Low-Carb Gluten-Free Almond Pancakes
Ingredients
3 cups almond meal
1 tablespoon ground flaxseed
1/2 teaspoon sea salt
1/2 teaspoon baking soda
3 large eggs
3/4 cup unsweetened almond milk, light coconut milk, or milk
2 tablespoons extra-light olive oil, walnut oil, coconut oil, or butter, melted
In a medium bowl, combine the almond meal, flaxseed, salt, and baking soda.
In a large bowl, whisk the eggs, then add the milk and oil or butter and whisk thoroughly.
Gradually whisk the flour mixture into the egg mixture. Add more milk as necessary, one tablespoon at a time, to reach pancake-batter consistency.
Lightly oil a skillet and heat over medium heat.
Pour 1/4 cup batter onto the skillet.
Cook for three minutes, or until bubbles form and edges are cooked.
Flip and cook for three minutes or until underside is lightly browned.
Repeat with remaining batter.
Serve with desired toppings.
https://foodietale.com/breakfast-and-brunch/low-carb-gluten-free-almond-pancakes/