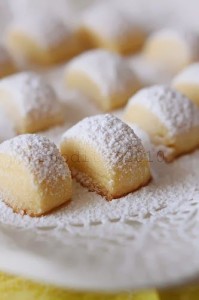 Nothing — nothing really beats homemade cookies. It's such a guilty pleasure. The wonderful aroma of baking followed by these warm, soft, melt in your mouth cookies is so comforting. I always wondered what it was that made this particular type of cookie have a melting-away sensation, but now I know what it is: cornstarch. So whether you are looking for something to nibble with your afternoon tea, follow Stephanie's recipe from Joy of Baking food blog, these melt- in-your-mouth classics would be a hit for sure !
Ingredients
1 1/2 cups all purpose flour (dita-I use 1 cup)
1/2 cup cornstarch (corn flour) (dita- I use 1 cup)
1/4 teaspoon salt
1/4 cup powdered (confectioners or icing) sugar
1 cup unsalted butter, room temperature
1 teaspoon pure vanilla extract
Topping:
1 cup powdered (confectioners) sugar, sifted
In a medium sized bowl whisk together the flour, cornstarch and salt. Set aside.
In the bowl of your electric mixer (or with a hand mixer), beat the butter and sugar until light and fluffy (about 2 minutes).
Beat in the vanilla extract. Add the flour mixture and beat until incorporated.
Cover and refrigerate the dough for at least one hour or until firm.
Preheat oven to 350 degrees F (177 degrees C) and place rack in center of oven. Line two baking sheets with parchment paper.
When dough is firm, form into 1 inch (2.5 cm) balls and place the cookies on the prepared baking sheets spacing about 1 inch apart.
Bake for about 12 - 14 minutes or until the edges of the cookies start to brown. Remove from oven and place on a wire rack to cool for about 5 minutes.
Meanwhile, line another baking pan or tray with parchment or wax paper. Sprinkle about half of the confectioners (powdered or icing) sugar onto the bottom of the pan and then place the slightly cooled cookies on top of the sugar. Put the remaining sugar in a fine strainer or sieve and then sprinkle the tops of the cookies (or you can just roll the cookies in the sugar).
These cookies store very well. Place in an airtight container between sheets of wax paper and they will keep a couple of weeks.
Makes about 3 dozen cookies.
I made a slight modification for the recipe. I used 1 cup of flour instead of 1 1/2 cups, then added 1/2 cup to the corn flour. So the cookies would be more delicate and melting in your mouth.
For the coating, you can create as your liking.
https://foodietale.com/breakfast-and-brunch/melting-moments-cookies/