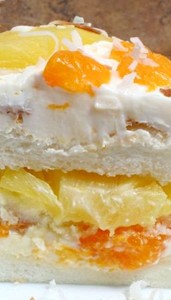 Ambrosia, food of the gods in Greek and Roman mythology, is something a bit more humble in most American households, where it's better known as a Chilled Fruit Salad. This tall, light, fruity, coconutty Ambrosia layer cake is made with angel food cake, pineapple curd, orange and vanilla frosting. It's heavenly! It's a perfectly light, cool dessert for Spring!!
Ingredients
1 cup pineapple juice
2 eggs
1/2 cup sugar
2 tablespoons unsalted butter
pinch of salt
16 ounces vanilla frosting
8 ounces cream cheese frosting
2 teaspoons orange juice
zest of half an orange
1 angel food cake, baked, cooled
2 cans (15 oz. ea) mandarin orange slices, drained
1 (20 oz.) can pineapple slices, drained and cut into quarters
2 cups sweetened shredded coconut
Pineapple Curd:
Bring juice from canned pineapple to boil.
Whisk together eggs, yolk, and sugar in medium bowl.
Add to pineapple juice, whisking continuously over medium heat until it becomes thick (3-4 minutes).
Take off heat, stir in butter and salt.
Pour in small bowl, cover with plastic wrap and refrigerate for 1 hour.
Cake:
Bake cake according to package directions.
When cooled, slice horizontal into 3 even layers.
Take vanilla frosting, orange juice and orange zest; stir to combine.
Place bottom layer of cake on platter, spread 1/2 of orange frosting on bottom layer, top with mandarin oranges.
Place another layer of cake on top, spread pineapple curd over this layer and top with 4 slices of pineapple rings cut into 1/2.
Add third layer of cake, frost all around the sides with rest of orange frosting.
Frost top with cream cheese frosting.
Layer 4 pineapple rings on top, cut into 1/4 and second can of mandarin oranges.
Press toasted coconut into sides and on top of cake.
https://foodietale.com/dessert/ambrosia-cake-recipe/