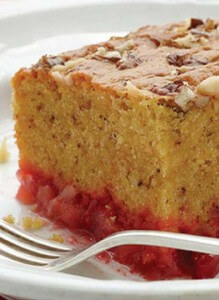 Please don't hate me. Because I'm here to tell you one thing: there is nothing—nothing—good about this dessert. It's loaded with sugar. It's packed with fat…I don't even know what to say. But guess what? This dump cake is sooo delicious and easy and did I mention EASY? I reckon most dump cake recipes are easy, but there is only 5 ingredients in this dump cake. No need for eggs, oil, or water!!!! And Why reinvent the wheel, really? Did it taste good? Sure…
Just dig in !
Ingredients
1 can Comstock® Country Cherry
1 package Classic Yellow Cake Mix
1 (20 oz.) can crushed pineapple with juice, undrained
1 cup chopped pecans or walnuts
½ cup (1 stick) butter or margarine
Preheat oven to 350ºF. Grease a 13"x 9" pan.
Dump in the can of pineapple with juice into pan. Then add the pie filling. Spread evenly.
Sprinkle cake mix evenly over cherry layer.
Sprinkle pecans over cake mix.
Dot with butter.
Bake for 50 minutes or until top is lightly browned.
Serve it warm or at room temperature.
https://foodietale.com/dessert/dump-cake/