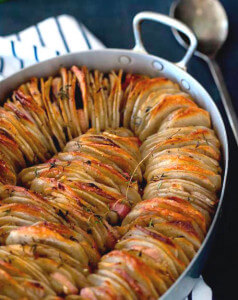 Just take a minute to stare at the Crispy Potato Goodness in the picture left. I am a huge potato fanatic and these just look stunning! YEP, they are as good as they look, if not better! But you'd never really describe roasted potatoes as "exciting." Sure, they're tasty and fulfilling, and the crispy skin of a hot fried potato is comfort food at its most delicious. Never, that is, until now.
They key to this recipe is getting the potato slices as thin as you can, so prepping the potatoes takes a little time. But if you think you've had roasted potatoes before, you have seen but through a mirror dimly because the thin top of each slice turns gorgeously golden brown and crisp while the rest of the slice stays soft, buttery and warm.
Ingredients
4 pounds russet potatoes, peeled
4 shallots, thickly sliced lengthwise
3 tablespoons unsalted butter, melted
3 tablespoons extra-virgin olive oil
Coarse salt
1/2 to 1 teaspoon red-pepper flakes (optional)
8 sprigs thyme
Preheat oven to 375 degrees. In a small bowl, combine butter and oil.
Brush bottom of a round 9-inch baking dish with some butter mixture.
With a sharp knife or mandoline, slice potatoes very thinly crosswise.
Arrange potato slices vertically in dish.
Wedge shallots throughout.
Sprinkle with salt and red-pepper flakes (if using); brush with remaining butter mixture.
Bake 1 1/4 hours. Add thyme and bake until potatoes are cooked through with a crisp top, about 35 minutes more.
https://foodietale.com/appetizers/crispy-potato-roast/