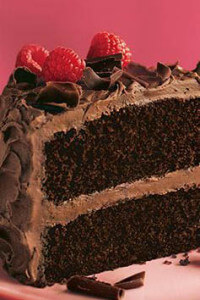 Some things just go together—peanut butter and jelly, cheese and crackers, chocolate and mayonnaise. Wait, what? You don't yet know about how awesome chocolate mayonnaise cake is? If you're not familiar with it, it's a wonderfully moist chocolate cake that was created, according to food legend, by the wife of a Hellman's mayonnaise salesman to help increase his sales. Although it may seem like an odd ingredient, the mayonnaise in this cake actually replaces the vegetable oil that's typically called for.
And it sorta makes sense if you think about it, since all mayo really is is egg, a little vinegar and oil. And since this chocolate cake is so unusually light, I didn't think twice about pairing it with chocolate frosting, which I typically would never do. So to all you mayo haters, give mayo one more chance and make this cake. I think it deserves it.
Hellmann's Chocolate Mayonnaise Cake
Ingredients
1 box (16.5 oz.) chocolate cake mix
1 cup Hellmann's® or Best Foods® Real Mayonnaise
1 cup water
3 eggs
1 tsp. ground cinnamon (optional)
Preheat oven to 350°.
Grease and lightly flour two 9-inch round cake pans*; set aside.
Beat cake mix, Hellmann's® or Best Foods® Real Mayonnaise, water, eggs and cinnamon 30 seconds in large bowl with electric mixer on low speed.
Beat on medium speed, scraping sides occasionally, 2 minutes.
Pour batter into prepared pans.
Bake 30 minutes or until toothpick inserted in centers comes out clean.
Cool on wire rack 10 minutes. Remove cakes from pans and cool completely.
Sprinkle, if desired, with confectioners sugar or fill and frost.
https://foodietale.com/dessert/hellmanns-chocolate-mayonnaise-cake/