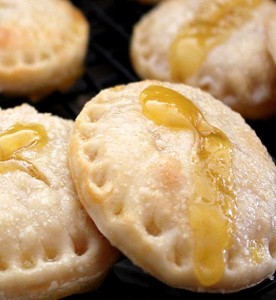 It's the weekend! A good day to bake and try to make life taste better! And that means that sometimes things just need to be easy. Uncomplicated. Simple. With a side of pie.I usually give you guys a page full of dialogue, but sometimes I think just sharing dessert is enough. Lemon Pie Cookies. Blogger Amy Erickson made Cookies that taste like lemon
pie? Genius! . Yeah… and is exactly the kind of thing I wanted to share. It's pretty. It's sweet and it tastes like lemonade and summer on cold winter day.
Lemonade Pie Cookies by Amy Erickson
Ingredients
1 egg
Splash water
1 box Pillsbury® refrigerated pie crusts, softened as directed on box
1 jar (10 oz) lemon curd
1/2 cup sugar
Heat oven to 350°F. Line cookie sheet with cooking parchment paper.
To make egg wash, in small bowl, beat egg with splash water until well blended. Set aside.
Unroll pie crusts. Spread lemon curd on 1 of the crusts, leaving 1/2-inch border around edge. Place second crust on top.
4
With 3-inch cookie cutter, cut out cookies by gently pressing down through both crust layers.
With handle of knife, press edges to seal; cut "x" in center of each cookie pie. Brush each cookie with egg wash; sprinkle with sugar. Place on cookie sheet.
Bake 12 to 15 minutes or until light golden brown. Cool completely, about 30 minutes, before serving.
https://foodietale.com/dessert/lemonade-pie-cookies-by-amy-erickson/