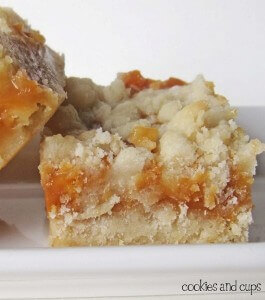 Hold on. One second.
I'm just licking the caramel from my fingers and brushing off cookie crumbs from the computer so I can try to describe how perfect these cookie bars are. Is it even possible for someone to not like caramel? That sounds like some sort of illness, and anyone who doesn't like caramel should see their doctor immediately 🙂 Caramel is one of my many, many weakenesses and these Salted Caramel Butter bars from Cookies and cups look too good to resist!
Yummmmm….I have become completely overpowered by the force that is salted caramel.
Salted Caramel Butter Bars
Ingredients
1 lb. salted butter room temp
1 cup sugar
1½ cups powdered sugar
2 Tbs vanilla OR - I used Princess Cake Emulsion..
4 cups AP flour

For the Filling:

1 bag (14 oz.) caramel candies (about 50 individual caramels), unwrapped
⅓ cup milk or cream
½ teaspoon vanilla
*1 T. coarse sea salt (optional)
https://foodietale.com/dessert/salted-caramel-butter-bars/
Please look preparation method at :