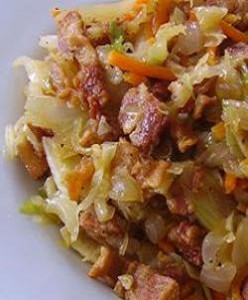 "If you lived on cabbage, you would not be obliged to flatter the powerful." To which the courtier replied, "If you flattered the powerful, you would not be obliged to live upon cabbage."
~Diogenes, ancient Greek philosopher's advice to a young courtier.
Bring on the cabbage! Fried cabbage is basic staple item in the low carb world. So this dish is made in my house probably wayyy too much but it
has cabbage in it so that makes it healthy ya know lol! This is a very simple recipe from Christina posted in Allrecipe magazine for the dish that is huge on flavor, we usually have aside some sliced up kielbasa but it is hearty enough to be a meal on it's own.
Fried Cabbage with Bacon, Onion, and Garlic
Ingredients
6 slices bacon, chopped
1 large onion, diced
2 cloves garlic, minced
1 large head cabbage, cored and sliced
1 tablespoon salt, or to taste
1 teaspoon ground black pepper
1/2 teaspoon onion powder
1/2 teaspoon garlic powder
1/8 teaspoon paprika
https://foodietale.com/main-dish/fried-cabbage-with-bacon-onion-and-garlic/
Please look preparation method at :