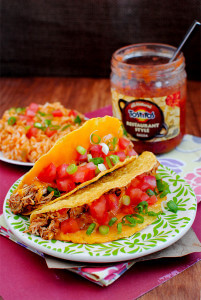 I'll keep this short and sweet: If there is one crockpot recipe you need in your repertoire, this is it. But truthfully, What family doesn't love tacos, and what mom doesn't love a good slow cooker recipe? This recipe by Kristin is the best of both and after making it once you won't even need the recipe. because it's just so darn easy.
Crockpot Chicken Tacos by Kristin
Ingredients
2lbs chicken breasts (about 4 large, or 5 medium,) cut in half
1 packet taco seasoning (or a double batch of homemade taco seasoning)
16oz jar salsa
Corn taco shells
Taco toppings: chopped tomato, lettuce, green onions, cheese, black olives, etc
For the Mexican Rice (can easily be halved):
1 teaspoon extra virgin olive oil
1/4 cup minced onion
salt & pepper
1 cup salsa
1 cup jasmine rice
2 cups vegetable broth
https://foodietale.com/dipssauces/crockpot-chicken-tacos-by-sarah/
.
Please look preparation method
at :