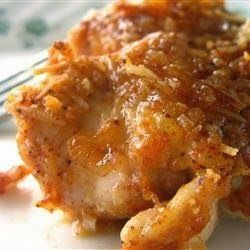 I have been wanting to share this recipe for awhile now but just kept forgetting. Thought it was time to take a break from the desserts! Seems like my tastebuds went to sweet side during February and Valentine's, so I wanted to change things up a bit. I mean, I am still going to eat them lol , but this
blog does need variety!
Today I am bringing you a recipe which calls for chicken breasts breaded with a Parmesan and paprika coating and is baked until golden and crispy.I love dishes where I don't have to do too much and it turns out yummy and this Baked Parmesan Paprika Chicken from Allrecipes magazine is just that.
Baked Paprika-Parmesan Chicken
Ingredients
4 skinless, boneless chicken breast halves
1/2 cup grated Parmesan cheese
2 teaspoons paprika
1/4 cup all-purpose flour
1/2 teaspoon black pepper
2 tablespoons milk
1 egg, beaten
1/4 cup butter, melted
1/2 teaspoon salt
Preheat oven to 350 degrees F.
Coat a shallow baking dish with nonstick cooking spray.
Combine flour, parmesan, paprika, salt, and pepper in a bowl. In a separate bowl, whisk together the egg and milk.
Dip the chicken in the egg, then dredge in the flour mixture.
Place in the baking dish, and pour the melted butter evenly over the chicken.
Bake for about 1 hour and 15 minutes in the preheated oven, until the cheese has browned, and the chicken has cooked.
https://foodietale.com/main-dish/baked-paprika-parmesan-chicken/