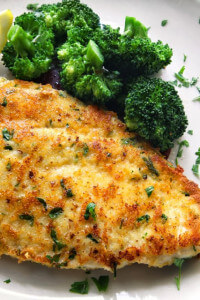 Bring that restaurant-style chicken experience home to your own kitchen. It all started when I was making my meal menu/grocery list for the week and there I was… stuck! What to make tonight for dinner? Naturally I pulled up pinterest and went recipe surfing. The first thing I clicked on was Parmesan Garlic Chicken Wings! I was like "OH YEEEAAAH this is it!" This my friends, is so good! The best part about it, is that, it is so easy and packed with flavor! Served with a simple side salad or a favorite veggie, Baked Garlic Parmesan Chicken is a healthy, quick and easy chicken dish that makes a perfect weeknight meal…
Baked Parmesan Garlic Chicken
Ingredients
6 boneless skinless chicken breast halves
1/2 cup grated Parmesan cheese
1 package Good Seasons Italian Dressing mix
1/2 teaspoon garlic powder
Heat oven to 400 degrees F.
Line cookie sheet with foil; spray with cooking spray.
Sprinkle chicken with salt and pepper to taste.
In shallow dish, mix Good Seasons Italian Dressing mix and the garlic powder.
In another shallow dish, Parmesan cheese.
Dip chicken into Parmesan cheese to coat. Place on cookie sheet.
Bake 12 to 15 minutes, turning once, until juice of chicken is clear when center of thickest part is cut (at least 165 degrees F) and coating is golden brown.
https://foodietale.com/main-dish/baked-parmesan-garlic-chicken/