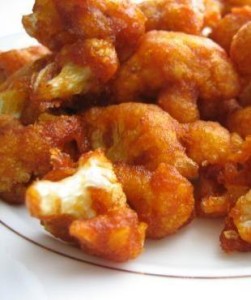 The other evening, while at one of our favorite local spots, we ordered classic Buffalo wings, they were deep-fried and coated in a thick, cheesy, garlicy sauce. In one word – Delicious, but as you may know i always trying to put a new twist on the classics, including burritos, tacos, and Buffalo wings, for a fresh dinner idea. By now, one would think I knew just about every basic thing in the kitchen, and yet every day I find myself learning something new.
This past week I learned how to fry cauliflower with rice flour, but still get that crispy joy from a fried vegetable. So these Cauliwings fryed with rice flour batter , are amazing way to transform the plain Cauliflower vegetable, and actually a pretty good knock off of boneless chicken wings.
Ingredients
1 cup diced cauliflower
3 teaspoon curd
2 green chillies
4-5 curry leaves (You can use basil leaves if curry leaves are not available)
sliced lemon and cilantro, for garnish
For the batter
2 tablespoon rice flour
red chili powder for seasoning
salt to taste
Mix all batter ingredients to make a thick batter or paste.
To this add the cauliflower and deep fry until batter is golden brown and crispy.
Keep aside.
Heat oil in a pan and lightly saute the curry leaves.
Add green chillies and curd.
Finally add the cauliflower, mix well and garnish with the sliced lemon and chopped cilantro.
https://foodietale.com/appetizers/cauliflower-chilli-fries/