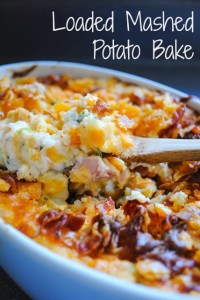 Today is all about sharing, you know. Sharing food, sharing a laugh or two, sharing a bit of inspiration and sharing more of my family life than you most likely want to know. 🙂
Thank you for listening.
Okay…potatoes. Loaded. With bacon and cheese(who doesn't like bacon and cheese!). Here. Recipe from Foxes love lemons. Check. MAKE IT! Serve it! LOVE IT!
It tastes a lot like twice baked potatoes, only it requires fewer steps.Ladies and gentlemen, sprinkle some green and red onions on top and you have a side dish of wonder.
Loaded Mashed Potato Bake by Lori
Ingredients
Nonstick cooking spray
1/4 cup coarsely crushed cheese crackers
1 tablespoon unsalted butter
2 cups mashed potatoes (leftover or fresh)
1/3 cup sour cream
1/4 teaspoon garlic powder
1/4 teaspoon ground black pepper
4 ounces shredded sharp cheddar cheese
4 slices cooked bacon, crumbled
1 green onion, thinly sliced
1/4 cup finely chopped red onion
1 tablespoon chopped fresh parsley
https://foodietale.com/main-dish/loaded-mashed-potato-bake-by-lori/
Please look preparation method at :