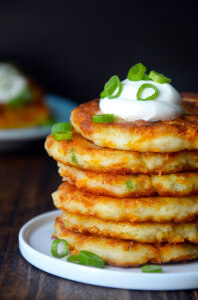 Getting started with blogging is rough unless you enjoy talking to yourself for awhile. lol Thank you to those of you who made an effort to leave wonderful comments. You don't know how much it meant to me. lol.
I hope everyone is having a wonderful Thanksgiving holiday!
The holidays are my favorite time of year. I love to bake treats to give away as gifts.
I'm sure that a number of you are thinking that you make fabulous sandwiches, soups, casseroles, etc. with your Thanksgiving leftovers, and that they are the best. But what do you do with leftover mashed potatoes? I mean, really – who does much with them?? Happily there are recipes out there, perfect for leftovers from Thanksgiving, or that roast you made on Saturday. It's a quick put together for a weeknight meal, or with a breakfast of eggs on a Sunday morning. These Cheesy leftover mashed potato pancakes from Just a taste aren't your average dollops of leftover mashed potatoes fried in butter.
They are so, so much more.
Please look preparation method at :