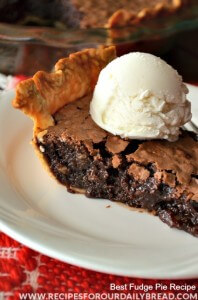 Someone suggested I should take the day off from blogging. But that'd be no fun. You know what would be fun? Sharing one of my absolute favorite recipes in the whole wide world! i have confession to make I'm a chocoholic. If it's chocolate, I'll probably eat it. And sometimes it turns out that the simplest of things can be the absolute best—which is the case with this Chocolate Fudge Pie with Pecans from Recipes for our daily bread.
What if I told you that this pie is…
Dangerously rich and delicious
Best gooey Chocolate Fudge Pie with Pecans ever.
Did I mention it only has 10 ingredients?
Warning: If you bring this chocolate pie to parties, people will devour every last chocolatey bite. Sounds intense… but don't worry. If you make this, you will never bring it to a party. You won't want to share.
Please look preparation method at :