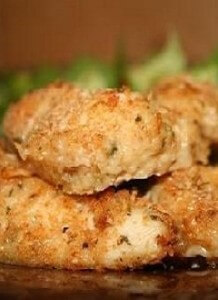 Think juicy, moist, tender and incredibly tasty. I've been staring at my screen now for 10 minutes, all googly-eyed and unsure of what to say, Impressive and expeditious are two adjectives which come to mind when describing these crispy, tender chicken cutlets from Food Magazine . Don't let the limited number of ingredients fool you, I know you'll absolutely love this Crispy, pan-fried Parmesan chicken cutlets. Well, go ahead and slap me, I think I'm dreaming!
Parmesan Chicken Cutlets – Weight Watchers
Ingredients
1/4 teaspoon fresh ground pepper
4 boneless skinless chicken breasts (about 1 pound)
1/4 cup parmesan cheese, grated
2 tablespoons dried Italian seasoned breadcrumbs
1/8 teaspoon paprika
1 teaspoon dried parsley
1/2 teaspoon garlic powder
Preheat oven to 400 degrees.
In resealable plastic bag, combine cheese, crumbs and all seasonings; shake well.
Transfer mixture to plate; dip each chicken breast in cheese mixture, turning to coat all sides.
Arrange on nonstick baking sheet.
Bake until chicken is cooked through, 20-25 minutes.
https://foodietale.com/main-dish/parmesan-chicken-cutlets-weight-watchers/