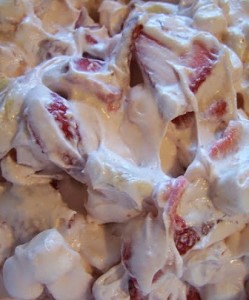 There is something about the words strawberry and cheesecake that just makes my day. I love anything that has to do with cheesecake. I mean who doesn't? So imagine my delight when I was scrolling through Pinterest a couple of weeks ago and came across this little gem from Food Magazine. This is probably my favorite fruit & whipped cream type of salad right now. It's delicious, easy to make and guaranteed to be a hit!
Strawberry Cheesecake Salad
Ingredients
12 ounces whipped topping
1 (3 1/2 ounce) package cheesecake flavor instant pudding and pie filling mix
3 (6 ounce) packages strawberry yogurt
1 lb fresh strawberries, sliced
3 bananas, sliced (add just before serving or they brown)
miniature marshmallow (add just before serving)
Thaw whipped topping and in a large salad bowl stir together whipped topping, yogurts, and pudding powder.
Let this set up in the fridge for at least an hour before serving.
Wash and slice strawberries.
You can add strawberries to salad or wait to add them with sliced bananas and marshmallows just before serving.
Keep refrigerated.
https://foodietale.com/salads/strawberry-cheesecake-salad/